1919 Austin 20 hp Vitesse
1919 Austin 20 hp Leger Cabriolet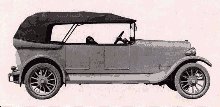 1920 Austin 20 hp Tourer
1922 Austin Seven
1924 Austin 12 hp Tourer
1925 Austin Seven Tourer
The engine used for the 20 h.p. model was also adapted for an Austin tractor, running on paraffin, and having a drawbar pull of 3,000 lb. This tractor won many agricultural awards between 1919 and 1921. A 13 ton truck was also produced, using the same engine.
The Company's post-war programme included, for a short time, a range of aeroplanes!
The Austin Greyhound 2-seater fighter was one, and the Austin Ball single seater another. Then there was a single seater biplane with folding wings, which sold at £500, and a fourth called the Austin Whippet.
In 1921 Came the 12 h.p. car which was literally a smaller version of the 20 h.p. model. This proved so successful that it stayed in production for nearly nineteen years and at one time was used by over go per cent of the taxicab drivers in London. The four seater touring version at £550 was described as "a car of moderate dimensions which would fulfil ideals of service previously only obtainable in high powered cars of 20 h.p. or over." In fact, so efficient was the design that it changed but little during its long life.
And then, in 1922, Came the 7 h.p. infant prodigy. It was received with much laughter at first and few took it seriously. Not so Sir Herbert Austin (Knighted in 1917). He had designed it entirely on his own and despite all criticism, he knew it was a winner.
The engine, with its 2½ in. bore and 3 in, stroke, developed 10 h.p. at 2,400 r.p.m. and was one of the smallest four-cylinder power units yet made. In many ways the car was a large car in miniature, scaled down with that perfection of simplicity which is the hallmark of genius. It weighed only 9 cwt., had an overall length of 8 ft. 9 in., but still provided seating for four.
When the first Seven was completed the mechanics of the Experimental Department watched Sir Herbert take his place in the driving seat to make the first run, just as he had done seventeen years ago, when the first Austin car was ready for its road christening. A new era in motoring had opened.
Herbert Austin
The Seven was exhibited at Olympia in 1922, at a list price of £225. The more adventurous members of the public purchased one. It exceeded their wildest expectations. The motoring journals published enthusiastic reports. A. C. R. Waite, who previously had won sporting events at Brooklands and at Shelsley with the 20 h.p. car, began racing the Seven. It won at Brooklands and at Monza in Italy. In fact, it became a vogue and orders began to roll in from all over the world.
In 1925 and 1926 extensions were made to the Factory so that it now covered 62 acres and gave employment to 8,000 workers who annually produced 25,000 cars. Longbridge was now a great engineering centre with its own foundry, forge and machine shops, its own body pressing, assembling and painting plant, which now included the new spray-applied cellulose, and its own erection shops for both individual units such as engine, gearbox, rear axle and steering, as well as for the final assembly of the finished car.
In 1927 a new six-cylinder 20 h.p. car was marketed which, for a brief while, ran in parallel production with the four-cylinder 20 h.p. and then replaced it entirely.
This car became the aristocrat of the Austin range and with saloon and limousine bodywork that graduated through the names of "Carlton," "Ranelagh" and "Mayfair" over the years, offered motoring at its best at astonishingly low cost. In fact, prices were now beginning to reflect the increasing efficiency of the factory.
As six-cylinder engines were becoming more popular, Austin introduced, late in 1927, a new 16 h.p. car, with a six-cylinder engine. The range now comprised twenty-four distinct models. In I929 the number had increased to twenty-eight and the prices had all fallen, the Seven tourer selling at the low figure of £130. Thus did flow production really justify itself.
1927 Austin 12-6 hp Harley Saloon
1927 Austin Seven Saloon
1927 Austin 20 hp Ranelagh Saloon
1934 Austin 10-4 hp Saloon
1935 Austin Ruby Saloon
1936 Austin Seven Roadster
1936 Austin 10 hp Sherbourne
1937 Austin 10 hp Cambridge
1938 Austin 14 hp Ascot Cabriolet
1939 Austin 8 hp Saloon
1939 10 hp Saloon
By 1930 output had reached the record figure of 1,000 vehicles a week and the range of models tended to increase. In 1931 a 12-6 appeared, to be followed in 1932 by an entirely new I0 h.p. car. Meanwhile, the Seven had become the most popular small car in the world. It climbed Ben Nevis in 7 hours 23 Minutes, and Table Mountain in 10¾ hours. Adding to its racing laurels, it came 3rd and 4th in the Ulster International Road Race in I929, and won the 500 Mile Race at Brooklands in 1930. With Malcolm Campbell at Daytona Beach, in 1931, it achieved the
commendable speed of 94·03 m.p.h. and later exceeded 100 m.p.h. at Brooklands with Cushman at the wheel, being the first 750 c.c. car to achieve this speed in England.
The elaboration of the Austin range continued until by 1934 there was a choice of forty-four separate models based on nine alternative chassis. If one takes into account the wide range of colours and equipment offered then a grand total of three hundred and thirty-three different cars were listed!
In the 1936 Honours List Sir Herbert Austin was created a Baron and elevated to the peerage. He took the title of Lord Austin of Longbridge.
In the same year, his sixty-ninth, he accepted the Chairmanship of the Government-sponsored shadow factory scheme for aero engine production, and during the next few years devoted much time to his new responsibility.
But the war was still in the future and 1937 saw the introduction of the Big Seven, and the popular Cambridge 10 h.p., Ascot 12 h.p. and Goodwood 14-6 models. Also in the range at this time were the famous 18 and 20 h.p. saloons which offered such roomy and luxurious motoring, while on the race track the latest version of the Seven, with its twin-overhead camshaft engine producing 116 b.h.p. at 9,000 r.p.m., was sweeping all before it.
In March of the following year L. P. Lord joined the Company as Works Director. At the early age of forty-two he had already made a brilliant name for himself as Managing Director of the Morris, Wolseley and M.G. Companies, and subsequently as Director of Lord Nuffield's £2,000,000 trust fund for special areas.
The Cofton Hackett aero factory was then in operation and the first Austin-built aeroplane, a Fairey Battle, had flown from Longbridge. Austin was also re-entering the 2 and 5 ton commercial vehicle field and new trucks were announced in January, 1939.
In February, a new Eight was introduced to replace the Big Seven and a Ten followed in May. The last new model to be announced before the second World War was the Twelve, in August.